I began riding a motorcycle in the late 1960"s, my first bike was a 1960 Matchless. Over the years I have owned and or rode just about every make and model. My favorite is my current trike, a Harley Davidson Fat Boy Trike.
HOT RODS

I have also had many custom cars & hot rods, my current is a modified 1983 Mercury Capri


I began my music career in early 1970 playing Bass guitar in a touring rock band. I toured and played professionaly until around 1981. I have been playing electric 6 string also for the past few years where I attend the occassional weekend jam.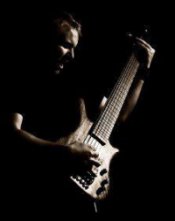 My wife Pat, dog Sasha and I spend as much time as we can rv'ing in our 30' 2001 Dutchmen motorhome. We try to attend music festivals throughout the summer and travel to interesting events such as Balloon Festivals. We have been as far east as PEI, south to Texas and North to Alaska.