MOTORCYCLES

I began riding a motorcycle in the late 1960"s, my first bike was a 1960 Matchless. Over the years I have owned and or rode just about every make and model. My favorite now is my current trike, a Harley Davidson Fat Boy Trike.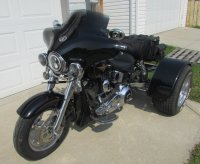 HOT RODS

I have also had many custom cars & hot rods, my current is a modified 1983 Mercury Capri










MUSIC

I began my music career in early 1970 playing a Gibson EB-3 Bass guitar in a touring rock band. I toured and played professionaly until around 1981. I have been playing various basses since then, I now am finishing my career with a Gibson EB-3 and will play whenever possible in local jams and open mics.